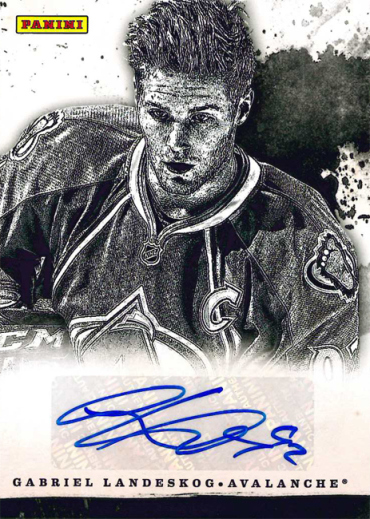 The Panini Father's Day Promotion is finally here! This years promo packs include cards from all four major sports (baseball, basketball, football, hockey) and features several layers of exclusive cards, inserts, autographs, and other suprises not found anywhere else!
The 2013 Panini Father's Day base set includes 44 cards and half of these are rookie cards numbered to 49 featuring key players from the 2013 NFL Draft. Also included are Lava Flow and Cracked Ice parallel cards numbered to 25 or less.
Select cards from the 2013 Panin Prizm Baseball and 2012/13 Panini Rookie Anthology Hockey Prizm Preview cards have an exclusive, limited parallel version that is numbered to 30 or less and only available in the 2013 Panini Father's Day packs.
Autorgraphed and memorabilia cards are also a huge part of the 2013 Panini Father's Day promotion. Draft Day Materials cards feature hat swatches from some of the top draft stars in sports today. The Pepsi Rookie of the Week Autographs set features on-card signatures from Andrew Luck and Robert Griffin III. Also available this year are one-of-one Diamond Cards featuring a real diamond piece embedded in the card and among them is a hand-signed Kobe Bryant autograph. Other hits include special Prime Hockey jumbo jersey cards of Gordie Howe, Rookie of the Year jumbo swatch cards with RG3, game-used shoe cards and Pro Bowl memorabilia cards. Tools of the Trade also return with more massive swatches featuring unique memorabilia.
Here is the breakdown for the 2013 Panini Father's Day Promotion packs:
2013 USA Baseball Champions (2 Father's Day packs for every box purchased)
2012-13 Marquee Basketball (3 Father's Day packs for every box purchased)
2012-13 Panini Basketball (2 Father's Day packs for every box purchased)
2012-13 Elite Basketball (3 Father's Day packs for every box purchased)
2012 Prime Signatures Football (2 Father's Day packs for every box purchased)
2012-13 Limited Hockey (2 Father's Day packs for every box purchased)
Tags:
2013
,
day
,
fathers
,
panini
,
promotion